Now Indian Super League will be seen in 190 countries. Loktej Sports News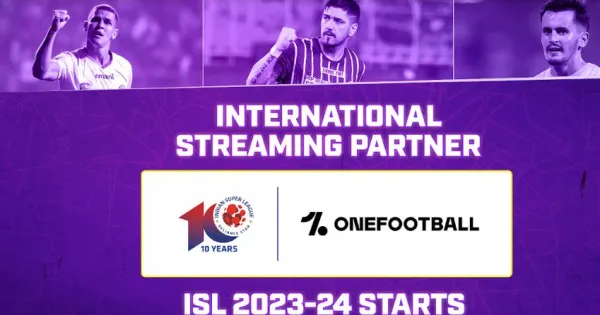 New Delhi, 19 September (HS). Football Sports Development Limited (FSDL) and OneFootball have announced a worldwide distribution partnership that will see live streams and highlights of all matches of the Indian Super League (ISL) 2023/24 season in over 190 countries.
The Indian Super League launched the delivery of live and non-live match content on OneFootball during the 2021/22 season and has seen immense interest from fans and the OneFootball community as ISL followers have grown sevenfold so far Is.
Commenting on the partnership, FSDL spokesperson said, "We are delighted to partner with OneFootball to bring another season of high-octane and explosive ISL action to fans around the world. The Indian Super League has fans all over the world and with the growing appetite to watch the new season, we are delighted to provide a live viewing experience to our global audience. "Our partnership with OneFootball has been extremely successful, and we look forward to this season continuing the global expansion of Indian football and increasing its reach and appeal."
Yannick Ramke (Head of OTT), OneFootball, said: "The Indian Super League brand and reach on OneFootball has grown significantly since we first partnered during the 2021/22 season. In fact, we consider this a blueprint for how football leagues are beginning to leverage our platform to grow digital-native audiences, drive international expansion and then commercialize the league. Launching the league's first direct-to-consumer offering in high-demand markets and through OneFootball allows them to further innovate delivery and presentation including multilingual broadcasts, time-shifted viewing as well as live and short-form Will get it. "Efforts continue to bring the league closer to its fans by removing barriers to entry for consumers in other markets and tapping into the global OneFootball community."
For the ISL's historic tenth season in 2023/24, international fans around the world can stream live action from all 139 matches of India's top football league on the OneFootball website as well as mobile, tablet and connected TV applications for free or via highly flexible streaming. Will be able to watch through pay-per-view offer. A range of free non-live content will be made available on OneFootball. It will feature highlights and other shoulder programming, along with OneFootball Publisher Network, to complete the live match watching experience.