Surat: Always aim high and keep trying to achieve it: Shalini Aggarwal. Loktej Surat, Business News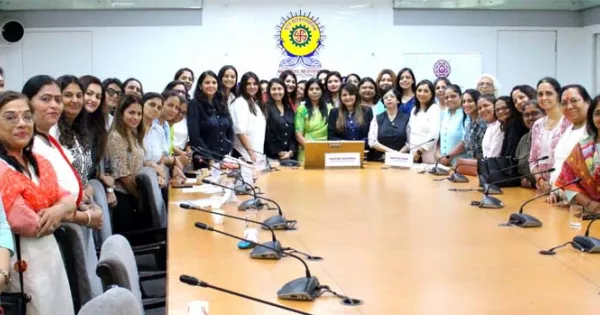 Women Entrepreneur Cell of South Gujarat Chamber of Commerce and Industry (SGCCI) organized a business meeting with Municipal Commissioner Shalini Agarwal at Surat Municipal Corporation. In which more than 50 women entrepreneurs participated and presented their business for 30 seconds.
Municipal Commissioner Shalini Aggarwal said that whether women are housewives or workers, they are very special and multi-tasking. Women work in every field. She takes care of the children, manages the house and also works. By doing everything he also teaches the children. Inspiring women entrepreneurs, she said that they should always keep their goals high and strive to achieve them.
She discussed the hard work and hardships faced by Indian Administrative Services and inspired women entrepreneurs to move towards success in life. He gave detailed information about various works being done by Surat Municipal Corporation for the development of Surat city. In particular, women entrepreneurs were given information about the solid waste work being done in the city, other facilities for the citizens and the efforts being made to make Surat the cleanest city in the world.
Dr. Bandana Bhattacharya, Group Chairperson of the Chamber of Commerce, conducted the business meet. Kritika Shah, President of Women Entrepreneur Cell, gave the welcome speech. Member Roma Patel presented the outline of the program. Advisor Swati Sethwala introduced Municipal Commissioner Shalini Aggarwal. Co-Chair Nimisha Parekh thanked everyone present at the Business Meet and then concluded the event