Surat: Diagnostic camp organized at Rotary Hospital Sachin, medical examination of more than 200 workers. Loktej Surat, Business News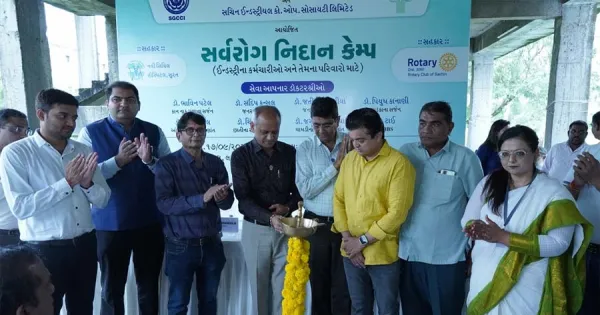 South Gujarat Chamber of Commerce and Industry (SGCCI) and Sachin Industrial Co.op. A disease diagnosis camp was organized by the Society Limited in collaboration with New Civil Hospital – Surat and Rotary Club of Sachin on Sunday, 17 September 2023 from 9 am to 1 pm at Rotary Hospital, Sachin GIDC. In which medical examination and treatment of more than 200 industrial workers was done.
Chamber of Commerce President Ramesh Waghasia said that if the industry does not have a healthy workforce, entrepreneurs cannot achieve the expected success. A healthy workforce also plays an important role for the growth of the industry, but workers in loom factories work amidst constant noise. Even in chemical factories, when workers are exposed to chemicals, there is a possibility of long-term illness, so timely medical diagnosis is essential for the physical and mental health of industrial workers. Keeping this in mind, the Chamber of Commerce along with other partner organizations organized an all-disease diagnosis camp.
Ear, Nose and Throat Specialist Dr. Bhavin Patel, General Surgeon Dr. Sandeep Kansal, General Physician Dr. Jatin Bamnia, Orthopedic Surgeon Dr. Piyush Kanani, Ophthalmologist Dr. Tushar Patel, Chest Specialist Dr. Chintan Patel, Dermatologist Disease specialist Dr. Jagdish Sakhiya and Dr. Tye provided service. All these doctors conducted medical examination and treatment of industrial workers. In this camp, patients were given medicines and guidance for further treatment.
In the medical examination of the industrial workers by the doctors, the problems of deafness, difficulty in breathing and skin diseases were found to be more prevalent among the workers, hence the Chamber of Commerce will give the report of deafness of the industrial workers free of cost in the coming days and will treat them. ,
In the inauguration ceremony of the Sarva Rog Nidan Camp, the then former President of the Chamber of Commerce Himanshu Bodawala and Honorary Minister Nikhil Madrasi and Dr. Parul Vadgama of New Civil Hospital, Sachin Industrial Co-op. Society Vice President Nilesh Gami, Rotary Club of Sachin President Niral Akbari, Chamber Managing Committee member Mitul Mehta and Sachin Notified Area Officer Priyank Menon were present. Chamber's Group Chairman Nirav Mandlewala presented the outline of the program. Dr. Jagdish Vaghasia, Chairman of the Industrial Workers Health Committee of the Chamber conducted the function. Sachin Industrial Co. Op. Society Limited Secretary Mayur Golwala gave the oral address.