Surat: Official opening of Diamond Bourse, foreign buyers made purchases on the first day. Loktej Surat, Business News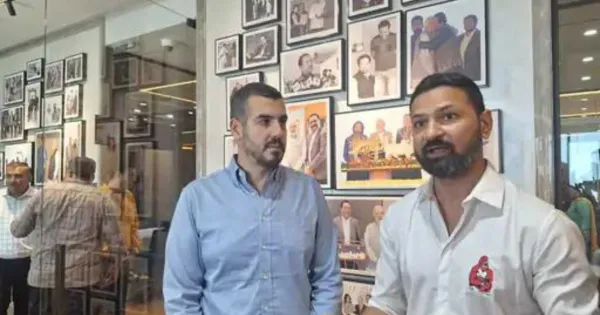 Surat Diamond Burse (SDB), the world's largest office building, officially opened for business from today. Approximately 135 offices within the SDB were operated by diamond traders. According to the scriptures, early on Tuesday morning the diamond traders entered the office with their employees and started their business with worship. Out of 135 traders, 26 diamond traders have closed their office from Mumbai and shifted to Surat permanently. Many buyers from abroad came to Surat Diamond Bourse today. Opening of office inside Surat Diamond Bourse will also give a lot of impetus to the diamond industry of Surat.
Out of 135 traders doing business in the diamond market which started from today, 26 diamond traders have permanently moved from Mumbai to Surat. Mumbai traders have closed the Mumbai office and started working at Surat Diamond Bourse with all their employees from today. Traders believe that till now the goods of cut, polished and rough diamonds were brought to Mumbai from Surat. At that time its trade was done from Mumbai, but now with all the platforms available in Surat, the trade will get a big boost.
Dinesh Lakhani, owner of Surat's famous Kiran James Global Company, started business in his office today. Performed the puja of Vighnaharta along with his staff in the office located on the 15th floor of Diamond Burse and duly worshiped Lord Ganesha. Diamond Burse Chairman Vallabh Lakhani and committee member Dinesh Navadiya were also present on this occasion. All the dignitaries said that from today trading has started in 135 offices in Surat Diamond Burse, out of which 26 offices belong to the traders of Mumbai Diamond Burse.
PM will inaugurate on 17th December
Diamond Burse President Vallabh Lakhani said that the traders who started their business in Surat Diamond Burse have expressed happiness. Demand is also coming from other businessmen to make furniture in their offices. Surat was known as Diamond City till recently, now it is getting recognition as Surat Diamond Burse. The hard work of the last seven years is now coming to fruition. Gradually other offices will also flourish in Diamond Burse, where it is expected that 4 thousand offices will become operational in the next one year. Not only this, Prime Minister Narendra Modi is going to inaugurate the Diamond Bourse on 17th December.
Bursa has a different identity today: Dinesh Navadia
Dinesh Navadiya, media coordinator of Surat Diamond Bourse Committee, said that Surat Diamond is going to be operational within six years. After the tweet of the Prime Minister of the country that Surat Diamond Burse is the largest commercial building in the world, today Surat Diamond Burse has got a different identity. Today 135 traders operate their businesses here. The biggest happiness is that about 26 traders have closed their entire business from Maharashtra and Mumbai and started it in Surat Diamond Bourse from today.
Many businessmen from India and abroad were present on the first day
The biggest thing is that foreign buyers have arrived at the Diamond Exchange Shree Ganesh which started from today and have started buying. Gradually, Surat Diamond Bourse is becoming a name in the international market. A new environment is being created, I believe that till now Surat city was known as Diamond City and in the coming days Surat city will be known as Diamond Bursa City. On the first day when the office was opened by traders at Diamond Bourse, many traders from abroad were present, including an Ilorian diamond trader from Turkey doing business with Kiran Gems who especially arrived at the opening of Surat Diamond Bourse. On the very first day he made the purchase and started the business.
I have come to Surat for the first time: Ilorozia
Turkish diamond merchant Ilorozia said, I have come to Surat for the first time. I had been buying diamonds from Kiran Gems dealer for some time. Till now I used to buy diamonds only from Mumbai, but now after visiting Surat Diamond Burse I believe that this is a much easier way. This would be a very easy way to purchase diamonds available at the location where the manufacturing unit is located. The experience of our first day here was amazing and supernatural. It will be a pleasure to trade in Surat Diamond Bourse in the coming days.