Surat: Panghat brings its rich heritage and exquisite fashion to Surat with the inauguration of its grand store. Loktej Surat, Business News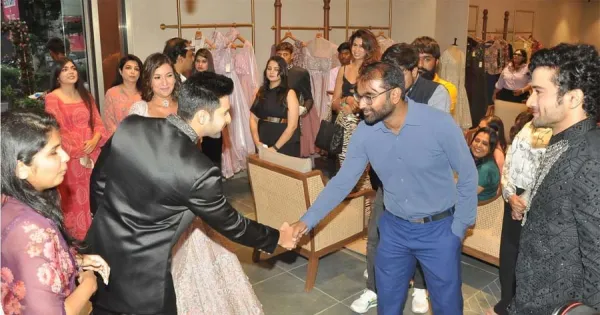 Panghat, the iconic Kolkata based brand known for its rich heritage and exquisite Indian ethnic wear, proudly announces the grand opening of its latest store in Surat, Gujarat at a grand event on 16th September. The event remained an extraordinary affair with the presence of Mumbai's renowned influencers like Malini Aggarwal, Shereen Luv Bug, Trishala Luv Bug, Prabhat Choudhary and Sahil Salathia.
Popular influencers of Surat including Vrushali Vachhiyat, Hiral Malkia, Siddhi Mehta, Sunny Parmar, Mitesh Patel, Sejal Savalia, Nitin Chavda, Komal Vora, Yashika Kothari were also present in this program.
Located in the heart of the city, this spectacular 18,000 sq ft studio spread over four floors and a basement promises a luxurious and luxurious shopping experience. With a legacy of preserving and promoting the cultural heritage of India through its clothing, Panghat's Surat store is set to become a luxurious paradise where tradition and contemporary fashion seamlessly meet, taking patrons to the finest of Indian beauty. Invites you to drown.
The Panghat Collection, renowned for its seamless blend of modern and traditional aesthetics, extends its richness into the architectural design of the store, which is manifested in every aspect of its creation. Inside the store, the structure is decorated with captivating arches and carefully crafted 3D elements, taking the architectural splendor of the store to new heights. The store exterior reflects the brand's unwavering dedication to timeless elegance, offering a truly majestic view. Furthermore, the color palette chosen is a harmonious fusion of contemporary and classical elements, including mushroom tones that fill this space with a sense of classic earthiness, beautifully complemented by rustic gold accents. This artistic amalgamation creates an environment that is warmly inviting and culturally enriching, immersing visitors in a world of exquisite design.
Commenting on the launch, Nirmal Saraf, Founder, Panghat, said, "Surat is one of the most dynamic cities in India, and with its rapid growth, this store launch is a milestone in our journey. It is a testament to our commitment A testament that we preserve the rich traditions of Indian fashion while adapting to the evolving tastes of our customers. We are thrilled to bring the heritage and artistry of Panghat to Surat and invite everyone to experience the magic of our collection. Invite you."
Panghat's Surat store represents the brand's fourth store establishment in India, building on its thriving presence in Kolkata and Jaipur. With a legacy of nearly two and a half decades, Panghat has its roots in Calcutta, where it honed its expertise in embroidery skills. While Panghat initially specialized in sarees, it has grown over the years to include a diverse range of wedding attire including lehengas and gowns.
Panghat's venture into active retail began four years ago with the establishment of its flagship store in Calcutta. Founded by Mr. Nirmal Saraf, a visionary with 25 years of experience in the industry, the brand's journey later welcomed his brother Pashupati Saraf and his son Anand Saraf, who further enriched the legacy.
Panghat offers an exquisite collection that is suitable for both men and women, offering a stunning range of Indian ethnic wear that seamlessly blends traditional, modern and fusion styles. The primary focus of the brand is on wedding attire, festive wear and party wear, ensuring every occasion is equipped with stunning fashion options.