Surat: Women entrepreneurs were informed about Chat GPT in a session organized by the Chamber. Loktej Surat, Business News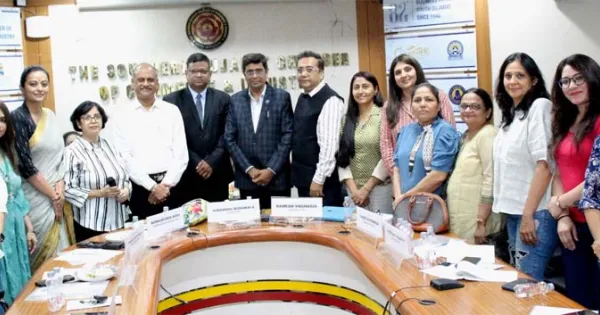 Business presentation meetings are organized from time to time by the women entrepreneurs cell of the chamber and they are also upgraded with latest technology to strengthen coordination among women entrepreneurs and increase networking in business.
face. The Women Entrepreneurs Cell of The Southern Gujarat Chamber of Commerce and Industry (SGCCI) organized an awareness session on 'Business Networking Meet & Chat GPT' at Samruddhi, Nanpura, Surat on Saturday. In which expert technology trainer Komal Kumar Shah gave detailed information about the use of ChatGPT tool in business.
The Chamber through its Women Entrepreneur Cell provides an important platform to women entrepreneurs to grow in business. Under which various programs are organized by this cell. Business presentation meetings are organized from time to time with the aim of strengthening coordination among women entrepreneurs and increasing networking in business. Under which this meeting was organized. In which women entrepreneurs gave a 30-30 second presentation related to their business.
Komalkumar Shah said that Chat GPT is one such deep machine learning based chat bot developed by Generative Pre-trained Transformer Open Artificial Intelligence, which gives almost accurate answers to the questions you ask. This chat bot does not provide many links to answer people's questions like Google, but the chat bot answers a variety of questions. However, it only provides answers with information prior to September 2021. With the help of this tool, content can be found in different languages.
Powered by artificial intelligence, this chat bot gives almost accurate answers to the questions asked. However, sometimes the answers given by them lack context. That's why a brief answer to the content obtained by asking Sawab four-five times can be given by asking the chat bot simultaneously. But this chat bot does not provide medical or legal advice. How can Komalkumar Shah Chat GPT be used in business? Mentored women entrepreneurs through her hands-on exposure.
In Chat GPT women entrepreneurs can get detailed information about their business. Chat GPT creates detailed business related information posted on the website in 500 words and shortens the same information to 100 and 50 words within seconds. Google has also developed bard.google.com tool against Chat GPT. While Microsoft has also developed the Open Being Tool and has also used AI in it. Chat GPT is being used extensively from corporate to many other sectors.
Chamber President Himanshu Bodawala gave the welcome speech. President-elect Ramesh Vaghasia and Honorary Minister Bhavesh Taylor were present. Group Chairperson Dr. Bandana Bhattacharya moderated the entire session. Swati Sethwala, President of the Women Entrepreneur Cell, informed about the activities of the cell along with the outline of the program. Member Amanat Kagzi introduced the speaker. The expert speaker answered various queries of the women entrepreneurs. Jyotsna Gujrati, Advisor, Women Entrepreneur Cell thanked everyone and then concluded the session.