Trailer release of the much talked about film 'Aquaman-2'. Loktej Entertainment News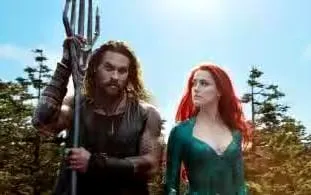 One of the most awaited Hollywood films of the year, 'Aquaman: The Lost Kingdom', the audience has been eagerly waiting for it since the day it was announced. This film was in the news because of the affair between Amber Heard and Johnny Depp. After releasing the teaser four days ago, the makers have recently released the action packed trailer of the film.
The released trailer has increased the curiosity of fans of DC Extended Universe. The upcoming action adventure film will be the sequel to the 2018 blockbuster "Aquaman" and will be based on the story of Arthur Curry (Jason), who is now the King of Atlanta four years after the events of the first film. Along with this, he is also a father now, who is seen taking good care of his son.
Fans once again got a glimpse of their favorite characters in the trailer, making everyone excited to watch the film on the big screen. In the trailer of 'Aquaman 2', Jason Momoa is seen fighting against Black Manta and his army. He will be seen risking everything to save his empire based in the sea.
All the characters in the film are given proper screen time, but the film's lead actress Amber Heard was seen only briefly in the trailer. Amber Heard plays Arthur's wife Meera in the film. The divorce case with Johnny Depp has clearly affected her work in this film. 'Aquaman-2' will be released in theaters on December 20 this year.