Ahmedabad awaits another magical innings of King Kohli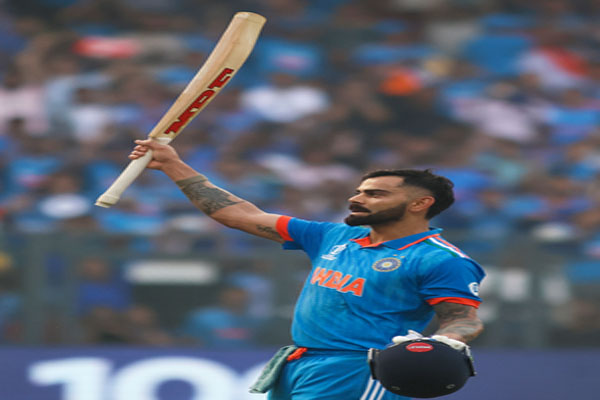 1 of 1
khaskhabar.com : Saturday, November 18, 2023 5:19 PM



Ahmedabad . India entered the final of the ICC Men's Cricket World Cup 2023 by defeating New Zealand on Wednesday. In the same match, Virat Kohli scored his 50th century of ODI career and broke the record of most ODI centuries of great batsman Sachin Tendulkar.
Kohli scored his first ODI century in 2009 against Sri Lanka in Kolkata. At that time many did not even think that he would play cricket for so long. Even cricket pundits had no idea that someone like Kohli could surpass Tendulkar in modern cricket.
Kohli had become an integral and important part of the Indian batting lineup by 2012, but surpassing the Master Blaster's record was still a tough task, given how difficult it is for players to play in all three formats.
However, Tendulkar knew that if anyone could get close to his record it would be Kohli or Rohit Sharma. The former Indian cricketer had predicted 11 years ago that Kohli could break his record in the future. And when Kohli broke his record on Wednesday, he bowed to pay his respects to Tendulkar at the Wankhede, where the Master Blaster played cricket during his formative years.
Kohli has broken another record of Tendulkar in this World Cup. He has become the highest run-scorer in a single edition of the ODI World Cup so far with 711 runs. The right-handed batsman did not break records but rewrote history as both the records were in the name of an Indian player.
After this 'Virat' feat, Tendulkar said that he could not be happier than that an Indian player broke his record, and that too on the biggest stage. He said, "I am very happy that that young boy 'Virat' has become the player he is. I couldn't be happier that an Indian has broken my record. And on the biggest stage – a World Cup semi-final – and my home ground. It's the icing on the cake."
From making his debut in 2008 to being removed from the captaincy in 2022, Kohli's international career faced many challenges. Yet, after each setback he emerged stronger than ever, and led India to victory on several occasions when the odds were against the 'Men in Blue'.
Be it his aggressive innings against Pakistan in the 2022 T20 World Cup or his match-saving 95 off 104 balls against New Zealand in the league match of the ongoing showpiece event – ​​Kohli has carried the team when it was most needed. Was.
Known for his art of chasing, Kohli has scored 27 centuries while batting late. Of his 50 ODI centuries, 42 times the team has won which shows how he has been a mainstay in the Indian batting lineup.
With exceptional performances against various nations, Kohli's ODI batting talent has come to the fore against almost every nation. He has been a key player against Sri Lanka, scoring 10 centuries in 51 innings.
West Indies have witnessed Kohli's prowess with nine centuries in 41 innings while against Australia and New Zealand he has scored eight centuries in 46 innings and six centuries in 31 innings respectively.
King Kohli was in tremendous form in 2018. He scored six centuries in only 14 innings that year. His exceptional run-scoring continued the following year in 2019. He scored five centuries in 25 innings. The early years of his career saw steady growth with notable performances in 2012 (five centuries in 17 innings), 2013 (four centuries in 30 innings), and 2014 (four centuries in 20 innings).
In 2011, he showed his strength by scoring four centuries in 34 innings. Kohli has once again emerged in the year 2023. This batsman has scored six centuries in 23 innings, due to which India is confident of his excellent performance in the ongoing ICC ODI World Cup.
Since this (2023 edition) has been his best World Cup so far, will Kohli be able to score his 51st century? Will have to wait for Sunday.
–IANS
read this also – Click to read the news of your state/city before the newspaper.