We have made a lot of progress since the last Junior Hockey World Cup: Arijit Singh Hundal. Loktej Sports News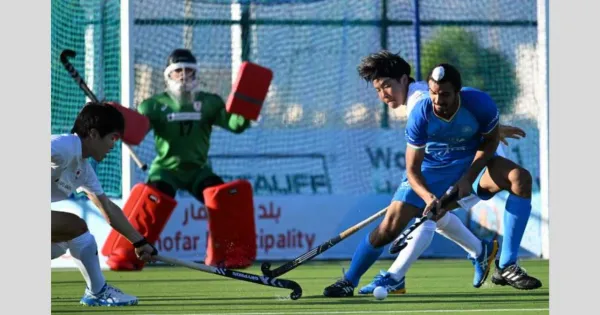 Bengaluru, 18 November (HS). Indian junior men's hockey team forward Arijit Singh Hundal believes that his team has a strong chance of achieving a podium finish in the upcoming FIH Hockey Men's Junior World Cup 2023. The Junior World Cup will be held from 5 to 16 December 2023 in Kuala Lumpur, Malaysia. Arijit will serve as captain Uttam Singh's deputy for the tournament. A total of 16 teams will compete in the tournament for the coveted trophy.
India has been placed in Pool C along with Canada, Korea and Spain. The Indian team will start its campaign against Korea on 5 December 2023. The defending champions are in Pool A along with Argentina, Australia, Chile and Malaysia. Egypt, France, Germany and South Africa are in Pool B, while Belgium, Netherlands, New Zealand and Pakistan are placed in Pool D.
Ahead of the tournament, Arijit said, "We have prepared well as a team in the camp and have focused on many key areas of our game. Now with the tournament fast approaching, all the players and support staff are even more "We are being more proactive. We are committed to ensuring that we do well. We are working on important technical areas where we can improve and our aim is to finish with a medal."
Arijit says he has learned a lot over the years, and the team is feeling confident ahead of the upcoming tournament. He said, "Since the last Junior World Cup, we have learned that we should not take any team lightly and we have to give 100 per cent against all teams. We have to keep motivating ourselves till the final whistle. We have Over the years we have learned to handle pressure on the big stage. We have played 3-4 major tournaments which has really boosted our confidence. We have also seen how other teams play and we are trying to improve our game. "We can make little adjustments and changes. Our fitness levels have also improved and we have developed a lot as a team."
He further added, "Also, the young players who will be playing their first Junior World Cup are also constantly taking advice from us. We are helping them in every possible way. We are also trying to guide them on how to deal with the pressure." Trying." Hailing from Amritsar, Punjab, Arijit became interested in hockey at a young age after watching his father play.
He said, "Everyone in my family played hockey, including my grandfather, father and uncles. My father used to go to games, and as a child, I used to go with him. From then on, my interest grew. My father had a dream to represent India and now I am carrying forward this dream for him."
Arijit started playing hockey professionally about 8 years ago and in 2016, he got a chance to play his first Junior National for Punjab & Sind Bank. After consistently performing well for his team, Arijit got a call for the Junior Men's National Camp in 2019, but his dream of representing India for a year was cut short due to the pandemic.
He said, "During the lockdown, our trainers shared programs so that we could continue training at home and maintain our fitness. We followed it for several months before being called back to SAI. At SAI, we again had to "We were kept under a strict bubble. We had to maintain all the necessary Covid protocols for training."
In 2021, Arijit finally made his debut for the Indian junior men's hockey team at the FIH Odisha Hockey Men's Junior World Cup Bhubaneswar 2021, where he scored 5 goals in 6 games. Since then, Arijit has earned 22 caps for the team and scored 17 goals. He also competed at the Senior Nationals domestically in 2021 and 2022. Along with sports, he is also pursuing his studies.
He said, "I have had many remarkable moments during my career in such a short period of time. But winning the Junior Men's Asia Cup trophy by defeating Pakistan 2-1 in the final has been the best moment of my career so far. Also scored an important goal. Which was a memorable moment for me."