'And She Clicked' book launching exploring the unique legacy of Lata Mangeshkar. Loktej Entertainment, Regional News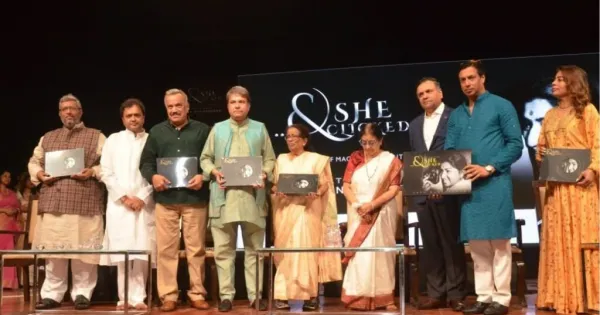 Bharat Ratna Lata Mangeshkar, fondly known and remembered as the "Nightingale of India", has influenced generations with her melodious voice. But his life is much more than music.
Lata Mangeshkar's multifaceted talents were celebrated with the unveiling of her recently published book 'And She Clicked' at the Nehru Center Auditorium in Worli on 3rd November.
The venerable Purbayan Chattopadhyay, accompanied by the immensely talented composers Satyajit Talwalkar and Arya Shreyasi, presented a captivating musical prelude to open the evening, setting the stage for an introduction to Lata Mangeshkar's lesser known interest – photography.
Lata Mangeshkar's hidden art as a talented photographer in her book, …And She Clicked'Appeared through.
A diverse group of various greats from the world of music, literature and cinema, such as Usha Mangeshkar, Meena Khadikar, Suresh Wadkar, Rachna Shah, Riday Wagholikar, Madhur Bhandarkar, Adinath Mangeshkar, Aashay Wagholikar, Anuja Wagholikar, Shivaji Satam, and Virendra Mahishakar, idealized this occasion.
…And She Clicked' A collection that references photographs taken by Bharat Ratna Lata Mangeshkar over the years, the book reveals Kala Kari's deep roots in the world of photography. The book offers a glimpse of nature, architecture, wildlife, and the lives of ordinary Indians through the lens of the famous singer.
Mayuresh Pai, the visionary behind the project, expressed his sentiments, "I am extremely grateful to present this beautiful collection of photographs to Lata Didi's friends and countless fans who have captured these images over the decades."
The uniqueness of the book lies in the fact that each photo was selected by Lata Mangeshkar herself and is accompanied by interactive captions, which tell stories in themselves. This demonstrates how many different cameras she used, from Rolleiflex and Yashica to her mobile phone.
title of book, …And She Clicked' It was suggested by the charming writer-lyricist Mr. Javed Akhtar, highlighting his special bond with Lata Mangeshkar.
The event was presented by Aditya Birla Group and Shri Kumar Mangalam Birla shared a heartfelt note on Lataji, further emphasizing her immense contribution to Indian culture. Co-hosted by IRB Infrastructure Developers Limited, the evening witnessed Lata Mangeshkar's Adilapane Achchute Sakshi on Indian society.
The foreword of the book is not written by anyone else but by our respected Prime Minister, Shri Narendra Modi Ji. The preface beautifully captures the deep bond that existed between Lataji and the Prime Minister and makes this wonderful book even more important.