Ritesh Pandey and Aparna Malik starrer film 'Sajnawa Kaise Tezab' will be released soon. Loktej Entertainment News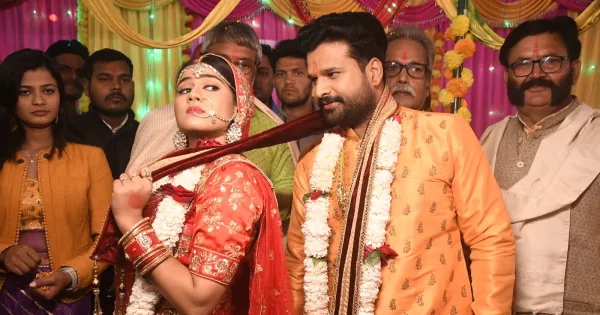 The film "Sajnawa Kaise Tezab" is going to release soon at Bhojpuri box office. The film's lead actress Aparna Malik is very excited about this. This will be his first Bhojpuri film. With this film, she is stepping into the Bhojpuri cine industry. So it is natural for them to be excited. She says that the film "Sajnawa Kaise Tezab" is a film based on a good story. I liked the story, so I went here from South to do this film. Actually, after a dozen South Indian cinema (Telugu) and Hindi films, Aparna is now going to be seen in Bhojpuri film with superstar Ritesh Pandey. The shooting of the film has been completed in one schedule in Uttar Pradesh.
After the shooting of the film, superstar Ritesh Pandey praised Aparna Malik and said that there is no dearth of talent in her. It is not easy to work here after coming from another industry, but Aparna never let the language barrier come in the way of her work and she worked a lot on her character and dialogues. As a result, the chemistry of both of us is clearly visible in the film. When you watch our film, you will get an idea of ​​it. Some of our pictures from the set had also gone viral in the past, which was well-liked by the audience.