Surat: Tree plantation campaign in Dahanu by Adani Foundation and Adani Electricity. Loktej Surat, Business News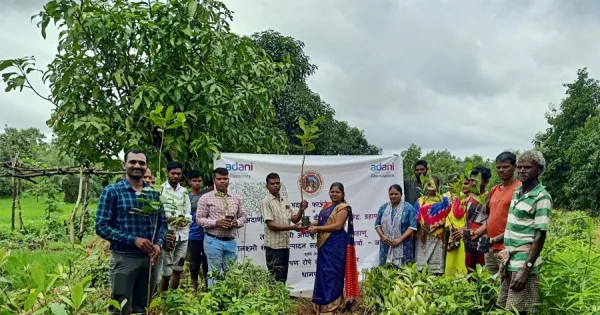 Recently, fruit trees have been planted in Kotbi and Gangangaon villages of Dahanu. This year, Adani Foundation aims to help 300 farmers from nine villages in Dahanu taluk realize their dream of wadi farming.
This tree plantation campaign was conducted in two phases in the identified villages. In which 4059 saplings were planted by 154 farmers by the Agriculture Department. While Adani Foundation planted 11,300 saplings by 108 farmers. Under this initiative, approximately 27.56 hectares of land has been brought under cultivation.
The plants given to farmers for afforestation include fruit trees like mango, coconut, cashew. The Foundation will provide technical assistance, necessary materials and training to the farmers for a successful tree plantation campaign.
Adani Foundation spokesperson said, "This initiative is part of our commitment towards sustainable development of communities. We believe that paddy cultivation will help in improving the economic and social condition of the farmers of Dahanu taluka. Vasundhara Kalangada, Sarpanch of Chari-Kotbi Gram Panchayat said, "We are grateful to Adani Foundation and Adani Electricity for this initiative. Is grateful. This will help in improving the livelihood of farmers."
Speaking on the occasion, Adani Electricity spokesperson said, "We are happy that our Wadi project has become an alternative source of livelihood for farmers. Promotion of scientific farming and reduction in agricultural inputs has resulted in an average increase in the annual per capita income of tribal families by Rs. There has been an increase of 48,107. This has improved the standard of living of tribal families."
After the welcome speech of the Sarpanch in the program, the team of Adani Foundation gave detailed information about the Wadi project. Farmers were encouraged to cultivate paddy. Village Development Officer and Agriculture Assistant Rekha Dombare, present on this occasion, gave information about the government schemes run by the Agriculture Department to provide maximum benefits to the farmers. The villagers cooperated with the foundation team in making the program successful.