Surat: Adani Foundation, Hazira started TB free Umarpada program. Loktej Surat, Business News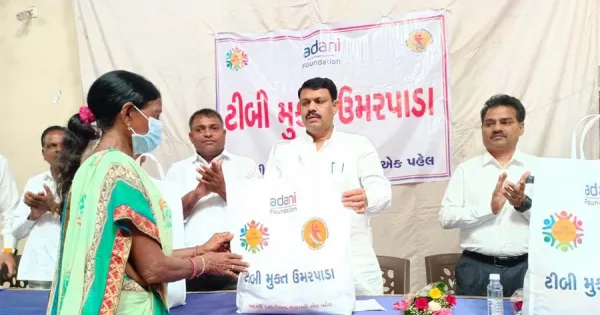 "TB Free Umarpada" program was organized by Adani Foundation, Hazira and Health Office Umarpada in interior Umarpada of Surat district in the presence of former minister and MLA Ganpatsingh Vasava and General Manager Maritime Services Captain Ashish Singhal, Adani Hazira Port.
In this program about 70 TB patients diagnosed in Umarpada taluka were distributed under Pradhan Mantri Nikshay Poshan Yojana. Adani Foundation will provide nutrition kits to these patients for the next six months.
Inaugurating the program, former minister and former Speaker of the Assembly Ganpatbhai Vasava said that it is highly commendable that Adani Foundation, Hazira has started the operation in Umarpada area for TB patients of tribal area.
Under this programme, nutrition kits will be provided to TB patients. Also TB in villages. Awareness will also be spread through public awareness programs and wall painting. He appealed to the patients to consume this nutrition kit and said that awareness about TB is very important. He said that by eating nutritious food the disease can be cured quickly.
In today's program, Captain Ashish Singhal, Head of Marine Department of Adani Hazira Port, Umarpada Tehsil Panchayat President Ramesh Vasava, Executive President Gulab Vasava, Karan Vasava, Ravisingh Chaudhary, Shantilal Vasava, Amish Vasava, Dr. Nandita Bakshi of Health Department, Dr. Many people including Vipul Barodia, Dr. Naveen Jain, Dr. Vishwa were present.
At the beginning of the program, Umarpada in-charge medical officer Dr. Vipul Barodiya appealed to the villagers to get tested for TB, so that treatment can be started immediately even if minor symptoms are seen. They were given information about the mission of TB free village. Under the TB-free Umarpada program, TB treatment was done in Chokhwada village of the tehsil. A public awareness program was organized in which about 125 villagers including the village Sarpanch participated and the program was successful.
During the program, the people present also took an oath to make the country TB free. The kit contained wheat flour 2 kg, gram and moong dal 3 kg, mixed dal 1 kg, oil 500 grams, peanuts 500 grams and jaggery 1 kg. Adani Foundation will provide nutrition kits to patients for the next six months. All these patients are from different villages of Umarpada block adopted by Adani Foundation.