Surat: Chamber of Commerce organized a seminar on import-export under Mission 84. Loktej Surat, Business News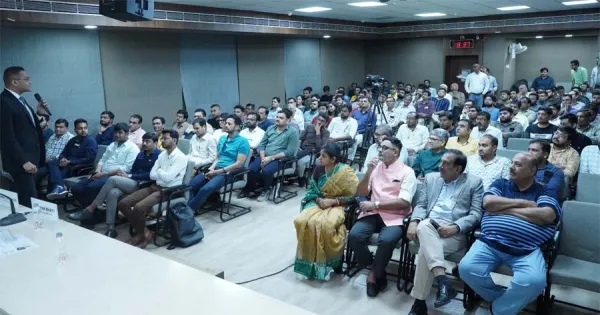 A seminar on 'Import-Export' was organized by South Gujarat Chamber of Commerce and Industry under SGCCI Global Connect Mission 84. In which expert Amit Mulani, founder of Bharat Udaan Mission, gave information to more than 250 industrialists, exporters and entrepreneurial youth about four important things for exports and guidance to avail the benefits of various schemes of Government of India for price optimization of Indian products. Did.
Amit Mulani said that in the year 2018, India was ranked 18th in the list of top exporting countries of the world. Whereas India was at 8th position among importing countries. Exports from India were worth Rs 36 lakh crore in the financial year 2022-2023, when imports were worth Rs 56 lakh crore. He said that marketing is necessary if small Indian products are to be delivered to any country in the world. If the product is not seen it will not sell. Goods exporters take products from the market and can display and sell it around the world.
Now that the world is looking for an alternative to China, it seems that India can fit into it. To take advantage of this opportunity, India will have to pay attention to four things. Firstly, India has to create a product that suits the product requirement of the market. One more thing, we have to take care of the compliance of the product we sell in the market, i.e. any certificate required in that country. Because without compliance the product cannot be sold in any market. The third thing is to understand the culture of any country and immediately develop the product and launch it in the market. Fourth and most important, technology has to be used to showcase the product. Social media has to be used for business development, so that the product can be shown and sold anywhere in the world.
He gave information about the things necessary to sustain exports for a long time. He said, there should be proper documentation and legalities, payment terms for export. The safety of products shipped thousands of kilometers away has to be considered. When we want to sell a product in a country, it is necessary to optimize its price. Various schemes of the Government of India can be availed for price optimization of Indian products. Entrepreneurs can prepare themselves as goods exporters by taking advantage of these schemes. He also gave detailed information about schemes like road tap, duty draw back, free trade agreement etc.
Kiran Thummar, Honorary Treasurer of the Chamber of Commerce, delivered the welcome address and thanked the businessmen who participated in the seminar and connected online. Mission 84 chief Paresh Bhatt presented the outline of the program and conducted the entire program. Mahesh Pamnani, President, SGCCI Education and Skill Development Center introduced the expert speaker Amit Mulani. The expert speaker satisfactorily answered various questions of the industrialists, exporters and entrepreneurial youth and then the seminar was concluded.