Surat's hi-tech sweet water technology company is now entering the European market. Loktej Surat, Business News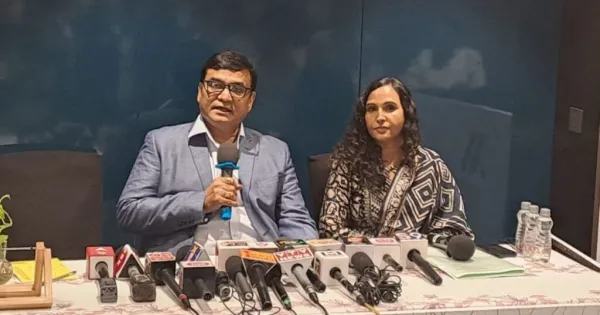 Hi Tech Sweet Water Technology Company, which started on a small scale in Surat in 1999 with the aim of providing clean water to people in every corner of the country, has become a big company today. The company has now moved towards Europe. The high-tech company also participated in the Aquatech exhibition held in Europe recently.
Director of Hitech Sweet Water Technology Company, Vijay Shah said that the Hitech company is engaged in making Prime Minister Narendra Modi's Swachh Bharat, Clean Water and Make in India campaign successful. Year
A small scale company was started in 1999. Today 2000 employees are working in the company. That means 2000 families are associated with the company. The company is now going to enter the European market. Under this, recently held in Amsterdam
The company also participated in Aquatech exhibition. Here the hi-tech company has received many inquiries. Inquiry received. This is an exhibition series that brings together professionals and newcomers from all over the world to trade in clean water equipment and showcase innovations and technologies. The hi-tech company has only one goal from the beginning, to provide clean water to everyone and the company's contribution in realizing the dream of Make in India campaign.
Make significant contribution to the country and create employment opportunities. Today the hi-tech company is moving ahead with this goal and 2000 families are with the company. The company is continuously making efforts to make this family even bigger.
Vijay Shah further said that recently a conspiracy is being hatched to defame the company. This unverified news appeared in the media that the Shah couple of a high-tech company had fled to America without repaying the loan. Today we are in front of you all, so how can it be said that we ran away? Bank of Baroda itself has announced that the hi-tech company is one of the good customers of the bank. The company is still going strong today and it is clear that the company is now expanding into Europe.
It is further stated that such baseless allegations were made by Hiren Bhavsar of Kashyap Infraproject Private Limited, a person with a history of business disputes with Hi-Tech Sweet Water Technologies. Apart from this, in the past Kailash Lohia had also committed fraud in the company's Bihar Water Project. Substandard solar panels/pumps for the project were supplied by Hiren Bhavsar. Kailash Lohia illegally transferred shares of high-tech Sweet Water Technologies Group company in his name and misappropriated substantial funds in the name of his wife Disha Lohia. A criminal case was also filed by the company against Kailash Lohia in this regard and he was arrested by the police and has served a jail sentence and is currently out on bail in this case. A defamation claim of Rs 500 crore has also been filed by Hi Tech Sweet Water Company against Hiren Bhavsar, Kailash Lohia and Kashyap Infa Tech in Surat Court for wrongly defaming the company.